Description of NR Explosion-Proof Wire Rope Hoist
NR explosion-proof hoist can meet the requirement of gas explosion-proof and dust-proof explosion-proof.
Features of NR Explosion-Proof Wire Rope Hoist
Model NR explosion-proof wire rope hoist is a new design hoist made in accordance with GB/T 3836.1-2010 and GB/T 3836.2-2010, which is gas explosion-proof and dust-proof explosion-proof (ExdIICT4Gb/tD A21 IP65 T130℃). Work Duty: M5, SWL: 30t.
The hoist motor is an explosion-proof variable frequency electromagnetic brake 3-phase asynchronous motor. The speed of the motor is smooth and impact-free, with large overload capacity and good strength. It is especially suitable for short-term or intermittent operation, frequent starting and braking hoists. Insulation class: F, protection class: IP65.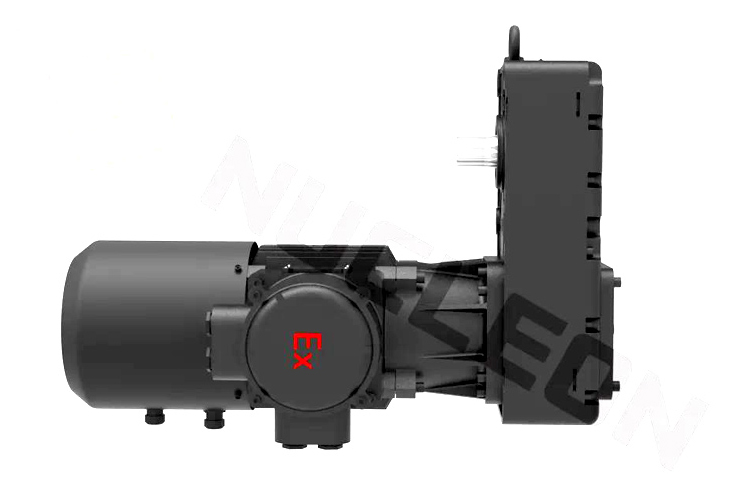 There is a spring-loaded electromagnetic safety brake installed in the motor, which is released when the power is off. The brake service life can work up to 1 million times.
The reducer is with a fully enclosed hard tooth surface. The gear is carburized and quenched, the tooth surface hardness can reach 58-62HRC, the load capacity is high, and the working noise is low. The reducer case cover has high strength and good performance. The reducer has a second brake interface, which can meet user requirements to a greater extent.
Technical Data of NR Explosion-Proof Wire Rope Hoist
Lifting Capacity
t
3
5
10
16
20
32
50
Lifting Height
m
no more than 24
Lifting Speed
m/min
4/0.67
5/0.8
3.3/0.5
4/0.67
2.7/0.4
Traveling Speed
m/min
2-20
Load

Nominal load spectrum coefficient

Use Rating

T0

T1

T2

T3

T4

T5

T6

T7

T8

T9

L1 - light

0.125 Km






M1

M3

M3

M4

M5

M6

M7

M8

L2 - medium

0.25 Km




M1

M2

M3

M4

M5

M6

M7

M8




L3 - heavy

0.50 Km

M1

M2

M3

M4

M5

M6

M7

M8






L3 – Ex. heavy

1.00 Km

M2

M3

M4

M5

M6

M7

M8







Production capacity:
Nucleon co. covers an area of 450,000㎡and has more than 3,000 sets of production equipment and testing equipment. Nucleon has an experienced R&D team, production team, after-sales service team and logistics supply team, with a total of about 1,500 people, which guarantees timely delivery of various orders.
Production equipment:
The workers must first sharpen their tools in order to do their best. Nucleon workshops are equipped with world-class production equipment, ensuring that every workpiece produced is of first-class quality.
Strict quality control:
Nucleon co. has a very strict quality management system, from raw material procurement, to every detail of production, to the acceptance of finished products, will be executed according to strict standards.
Adequate supply:
Nucleon has sufficient raw materials, abundant accessories, and a large semi-finished and finished product warehouse to meet various urgent orders.
After-sales service:
Perfect after-sales service team, including: technical consultation, equipment installation, logistics support, order settlement, Solution customization etc.
Internationally recognized:
Nucleon® crane have been exported to more than 100 countries and regions and have been highly recognized by customers. In the future, Nucleon® crane will serve more customers all over the world.
Certifications and Honors:
Nucleon has obtained more than 100 production qualifications in China, more than 200 domestic and international honors, CE, IOS related certification and a number of technical patents.
Leave Us A Message
If you need a custom crane or need a complete crane solution or if you have any other questions, you can submit a message to us via the form below. We usually get in touch with you within 24 hours.