Description of Electrolytic Aluminium Industry Multifunctional Crane
Electrolytic aluminium industry multifunctional crane is a key eqnuipment for huge pre-baked anode aluminium manufacturering, can adapt to high temperature, large current, strong magnetic field, dust and HF flue gas special environment, it can finish the following work in pre-baked anode electrolytic cell: 1.Open electrolyte shell, add electrolytes such as alumina and fluoride salt to electrolytic cell; 2.Charge, add electrolytes such as alumina and fluoride salt to electrolytic cell; 3.Replacing the anode, Unscrew, lift and drop screw clamp, lift anode scrap, change new anode; 4.Refloat dreg, Unscrew, lift and drop screw clamp, lift anode scrap, change new anode; 5.Vacuumizing, output aluminum, lift & calculate (single and accumulation)and display, print; 6.Lift positive bar hoisting and lift frame; 7.Maintenance, Complete the installation and maintenance of electrolytic cell superstructure, the lower cell shell and other scattered lifting.
Features of Electrolytic Aluminium Industry Multifunctional Crane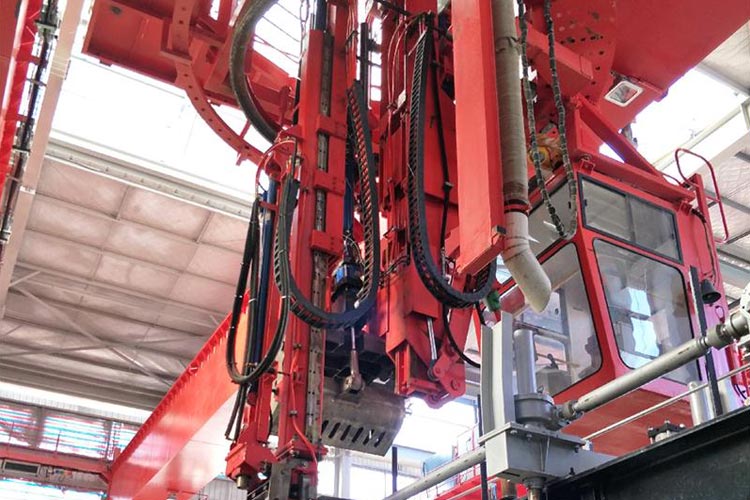 The electrolytic aluminium industry multifunctionalcrane include crane travel, girder frame, tools trolley, output trolley, Hydraulic pneumatic, electronic control system, etc. The core part is tools trolley, include travel system, trolley frame, tool rotation system, open shell system, change anode system, refloat dreg system, laying system, control cabin rotation system,etc. Crane use VFD and PLC control with control cabin or remote control. Wildly used in electrolytic aluminium industry.
Production capacity:
Nucleon co. covers an area of 450,000㎡and has more than 3,000 sets of production equipment and testing equipment. Nucleon has an experienced R&D team, production team, after-sales service team and logistics supply team, with a total of about 1,500 people, which guarantees timely delivery of various orders.
Production equipment:
The workers must first sharpen their tools in order to do their best. Nucleon workshops are equipped with world-class production equipment, ensuring that every workpiece produced is of first-class quality.
Strict quality control:
Nucleon co. has a very strict quality management system, from raw material procurement, to every detail of production, to the acceptance of finished products, will be executed according to strict standards.
Adequate supply:
Nucleon has sufficient raw materials, abundant accessories, and a large semi-finished and finished product warehouse to meet various urgent orders.
After-sales service:
Perfect after-sales service team, including: technical consultation, equipment installation, logistics support, order settlement, Solution customization etc.
Internationally recognized:
Nucleon® crane have been exported to more than 100 countries and regions and have been highly recognized by customers. In the future, Nucleon® crane will serve more customers all over the world.
Certifications and Honors:
Nucleon has obtained more than 100 production qualifications in China, more than 200 domestic and international honors, CE, IOS related certification and a number of technical patents.
Leave Us A Message
If you need a custom crane or need a complete crane solution or if you have any other questions, you can submit a message to us via the form below. We usually get in touch with you within 24 hours.